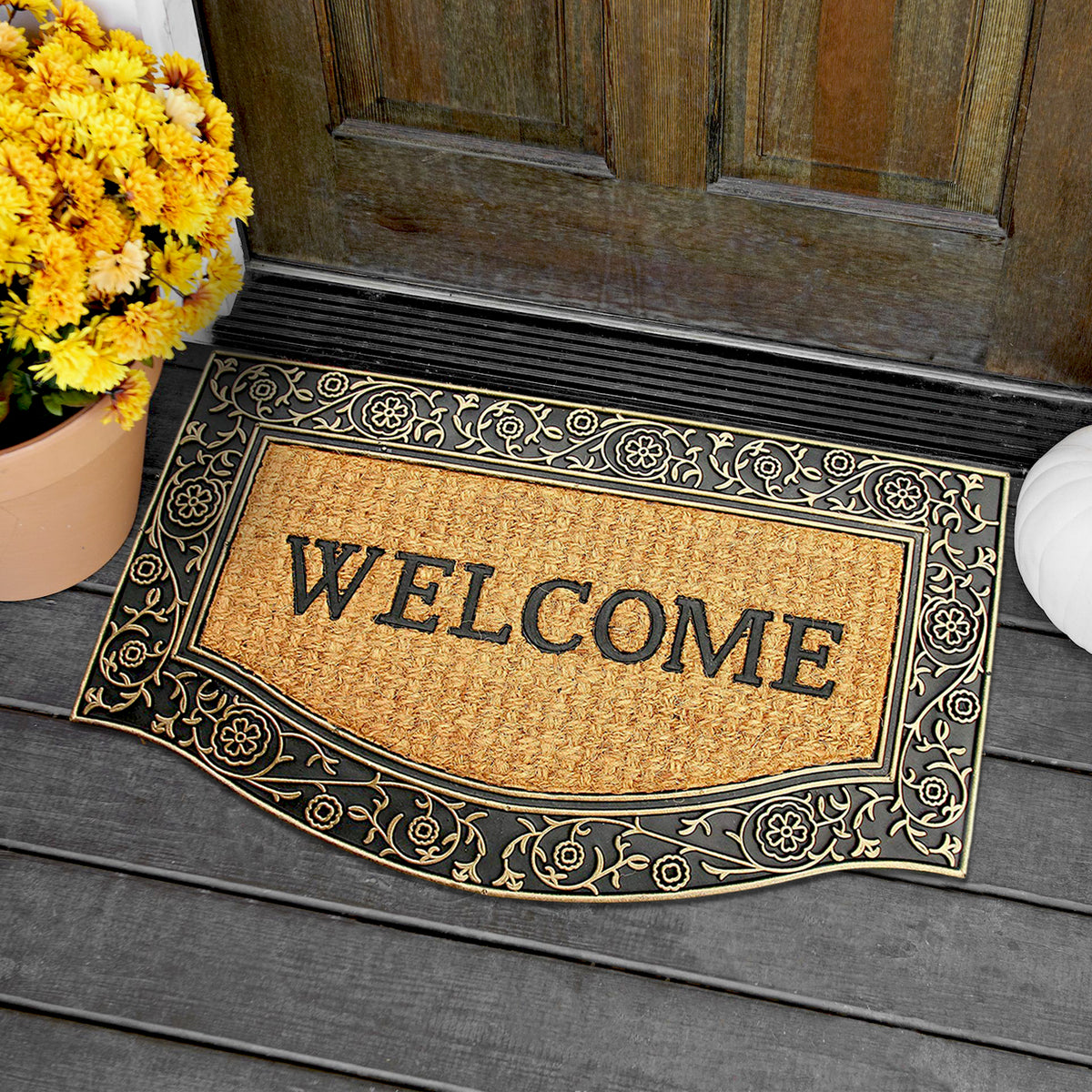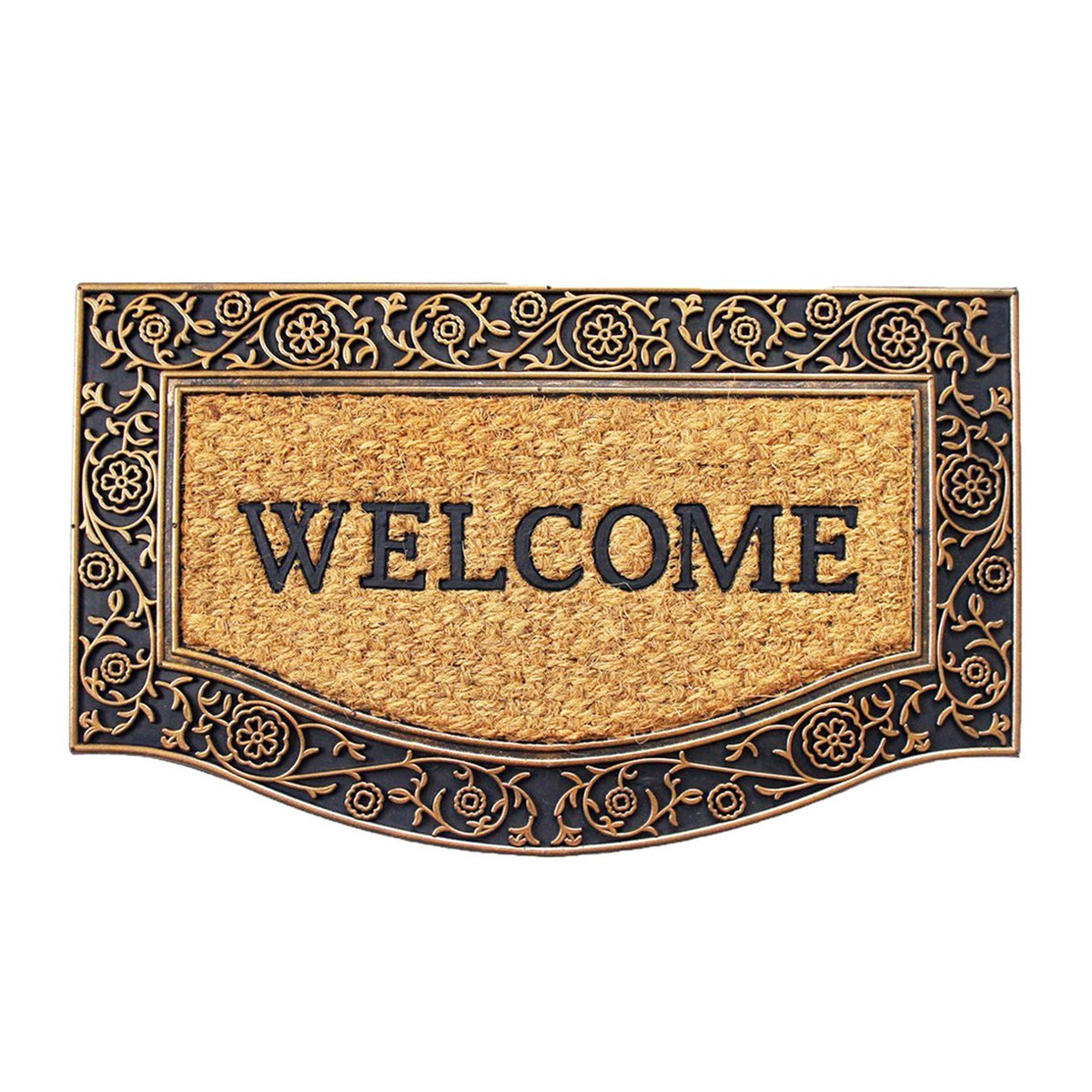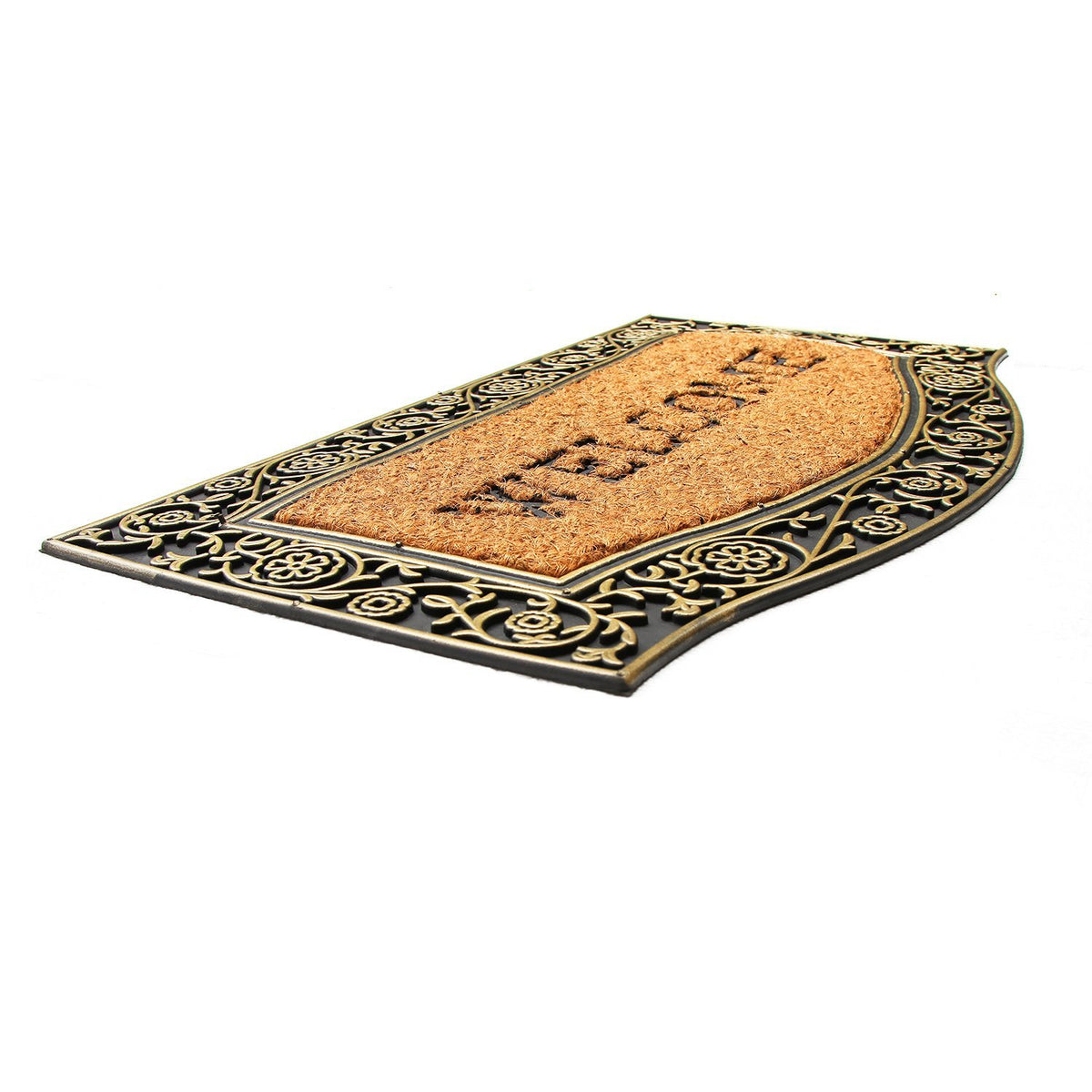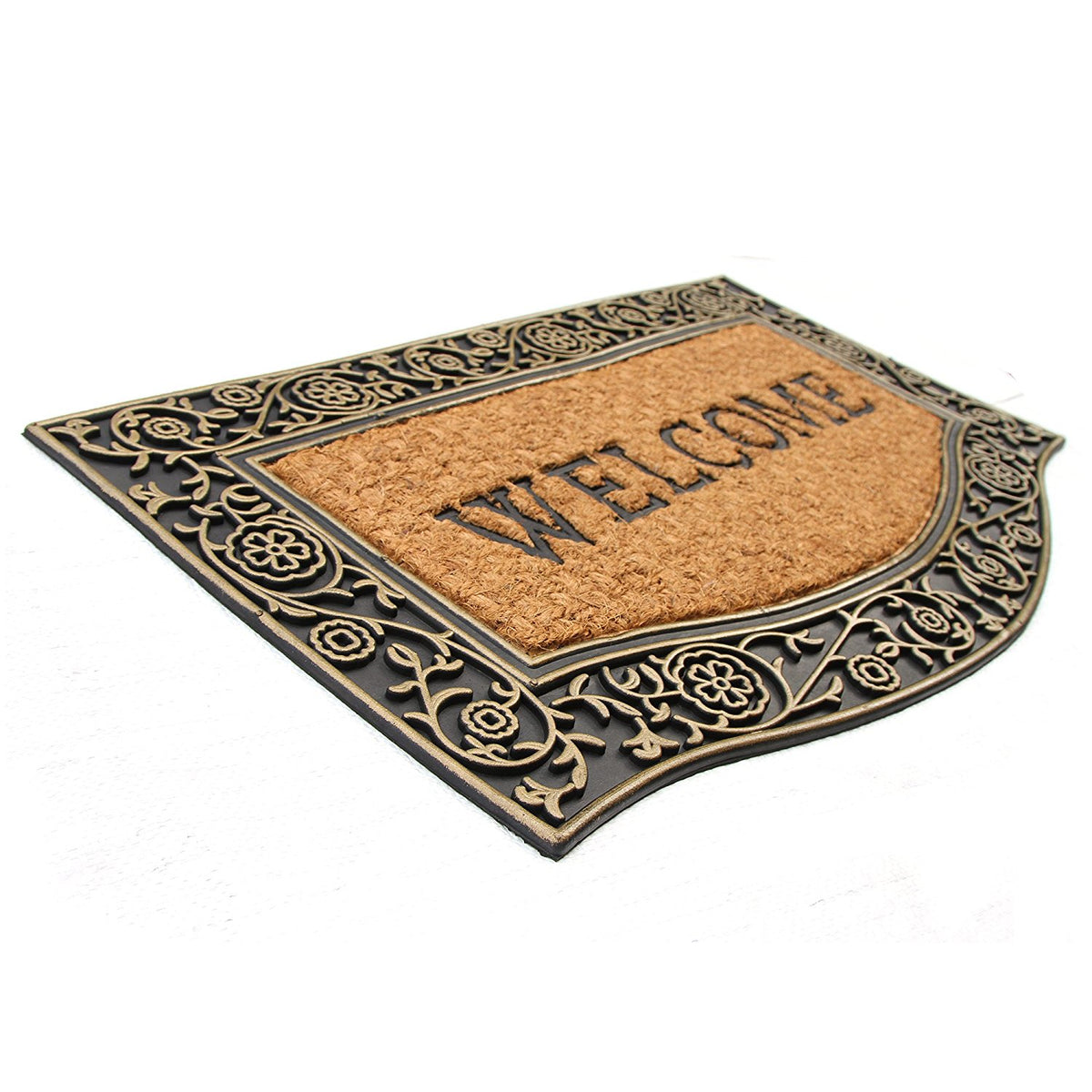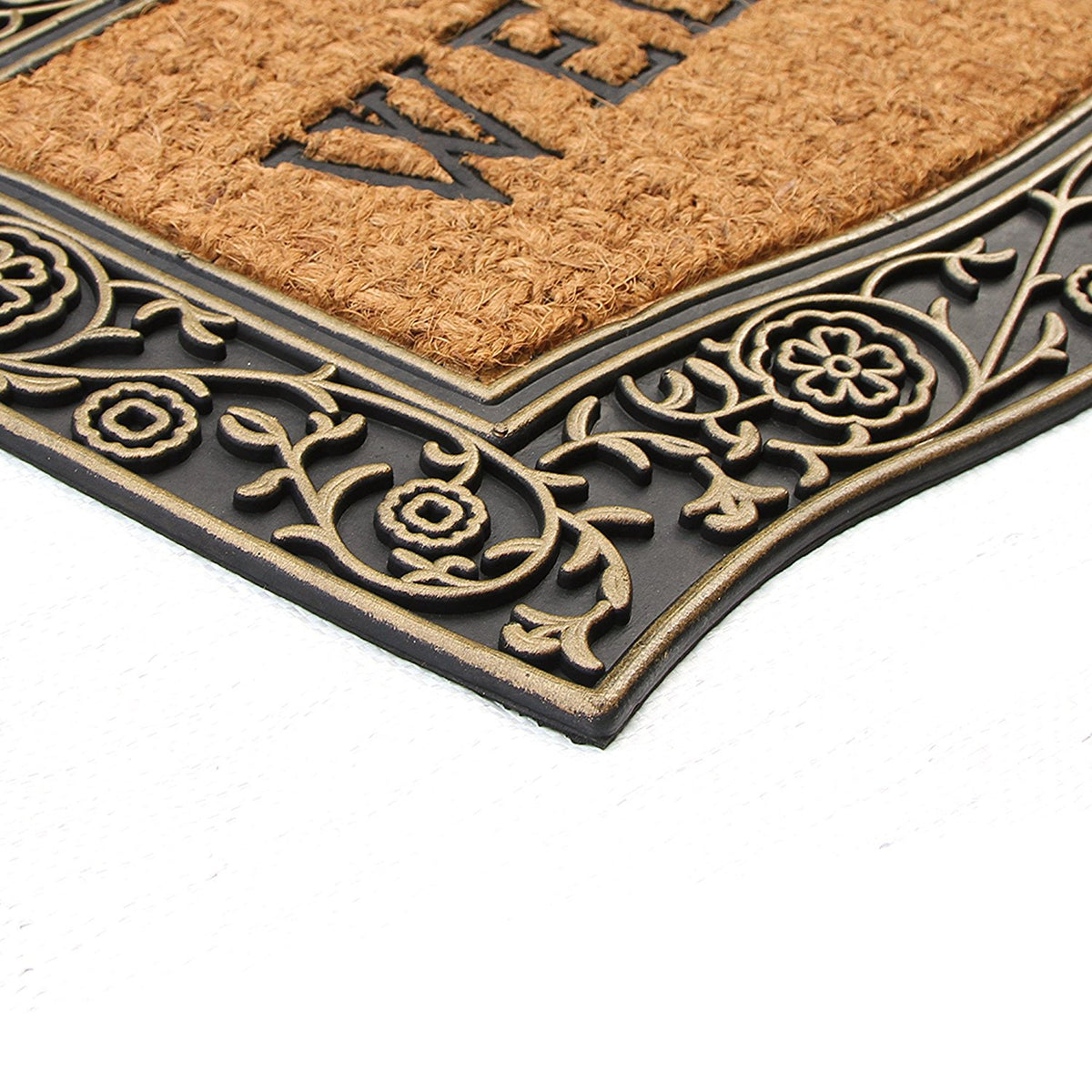 OnlyMat Welcome Natural Coir Entrance Mat with Golden Colour Border
by OnlyMat
Coir & Rubber Door Mat
A simple way to greet your guests is to say 'Hi' or 'welcome'! However, if you want to do it interestingly, consider a doormat. Well, you may now think what else a doormat can do apart from wiping the dirt off your shoes. The reality is that doormat is now not merely a cleaner, it can also be a decor to your home.
You read it right. We, at Onlymat, have been creating thoughtful designs and rare combinations to elevate the utility of doormats from just being simple pieces of rugs to and important design element for your decor. We bring to you a fun way to welcome your guests with our trendy rubber coir doormat that is perfectly suitable for both home and offices, to add grandeur to your entrance!
Why Choose us?
There are numerous reasons on why our customers trust us, let's go through them:
With Onlymat, you can be creative and stay unique, as you can pick the design of your choice – you name it and we make it!

Take your home décor to the next level by selecting designs and styles that are seldom seen elsewhere.

Apart from home, create the first line of defence for the heavy traffic areas in your office too. Our industrial rugs are specially designed to withstand maximum footfall.
Onlymat
Who We Are
Established in 1917, we have been fulfilling the floor covering needs of over 80 countries for over a century. We are determined and aimed at improving the way people maintain cleanliness at their homes and offices.
Further, we focus on producing bespoke doormats and rugs, keeping environment in mind. We are dedicated towards the origination of such products that can elevate the décor of your premises while keeping them spick and span.
Nature-friendly products

No Compromise on Quality

Wide Variety

Long Lasting
Key Features of Rubber Coir Doormat
We have increased the years of durability of the doormat by providing the right combination of rubber and polypropylene, to withstand normal wear and tear.

Anti-Slip Rubber Backing

The doormat comes with an anti-slip rubber base so that it stays in place even after repeated wiping.

Universal Size

The rubber coir mat comes in the most appropriate size fitting at the standard door entrances of almost every type of Indian household, right from individual villas to apartments.
Curvaceous Design
Onlymat doormats are not just cleaners, they are perfect decor pieces for your home . We have come up with a rare and interesting combination of rubber and coir to make the doormat stand out from the usual. It comes a rubber base, which helps the mat to stay in place. The top coir portion of the mat wipes the dirt off your shoes. Adding the looks is the curvy border that comes in metallic silver and golden colors.
Specifications
Material: Rubber and Coir
Size: 45cmx 75cm
Thickness: 10mm
Color: Silver Border, Brown Coir
Common Use: Welcome Mat for Covered Door Entrance
Care Instructions
With the simple tips given below, you can increase the longevity of your doormat, so that it continues adorning your entrance way for many years to come:
As a part of everyday cleaning, make it a point to shake the doormat daily morning to remove the dirt and dust accumulated on its surface. By doing so, your doormat will retain its fresh look!

Vacuum clean the doormat occasionally to remove the fine particles of dust hidden in the edges and grooves.

Avoid placing the mat under direct sunlight, as it is most suitable for covered entrances.
Size (L X W X H): 75 cm x 45 cm x 0.8 cm
Material: Natural Coir and Natural Rubber
Product ID: B014ISDNFI
Special Care Instructions: Coir doormats may shed in the first few months of use. During this period simply brush or shake the mat to maintain its best appearance.
Delivery Method & Time: Ground Shipping via DTDC/DHL/Blue Dart 3-7 business days.