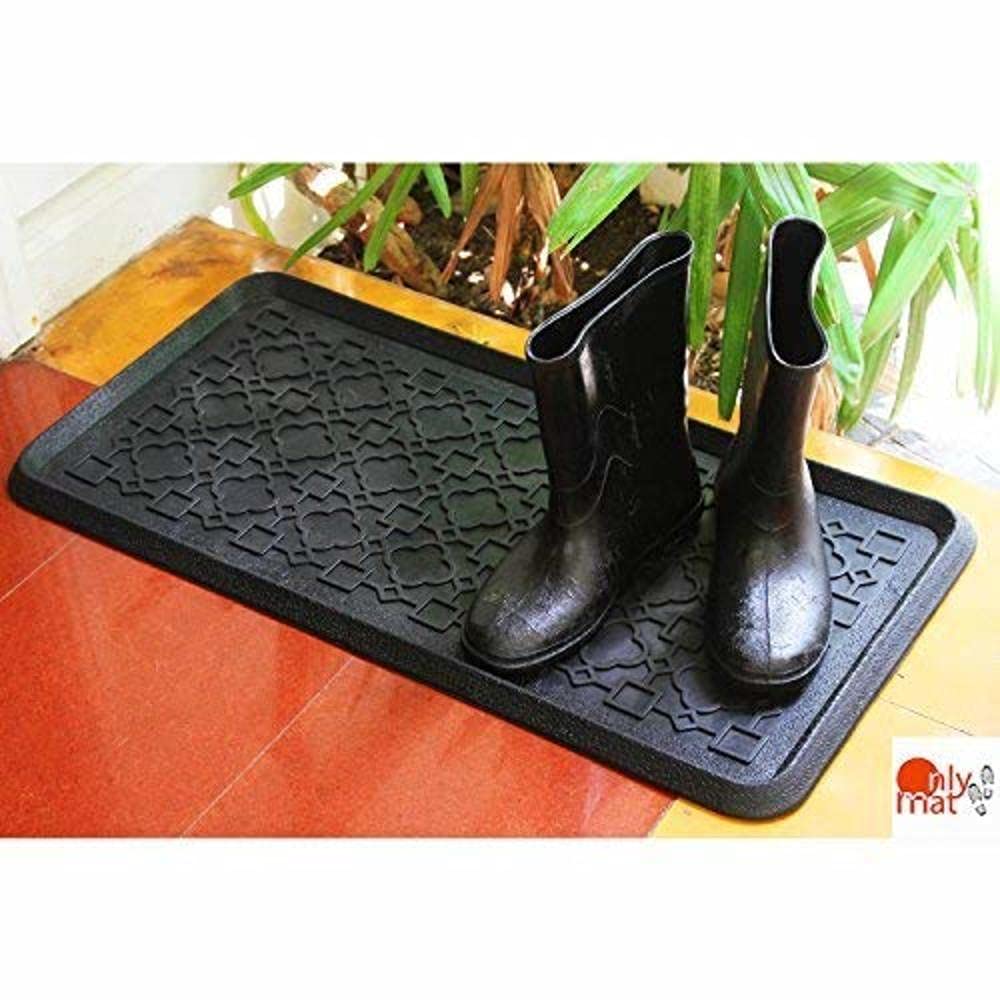 Multi-Purpose Rubber Boot Tray Mat - Boots, Pet Bowls, Flower Pots, Wet Items - Indoor / Outdoor, Waterproof
by OnlyMat
Rubber Floor Mat
Set your wet or muddy shoes and boots on this Onlymat Multi-Purpose Rubber Boot Tray Mat which helps  keep your home clean and tidy. It is the perfect place to keep soiled footwear neatly arranged. This rectangular black mat features a raised design that helps to drain moisture away from boots so that they dry faster, without spilling the liquid outside of the tray. This boot mat tray is sized perfectly to hold a wide array of shoes, boots and slippers. It can be a great floor placemat for pet dishes or litter boxes and a unique way to protect cabinets by storing cleaning supplies on top. You can place your furry friend's food and water bowl on the tray. Its 5cm lip will ensure that water or any liquid stays in the tray and thus, you can save your time and energy to sweep the floor.
This boot tray mat is ideal to store away all those wet and dirty shoes, pet food bowls, flower pots, wet umbrellas so that your entranceway and indoors remain dry and clean! You can use it for indoor or outdoor applications such as doorway, foyer, porch or a laundry room. This mat is durable, long-lasting and easy to clean.
Perfect Food Tray for Your Pet 

Avoid your pets messing around with their food bowls! Place their bowl on the tray and encourage your furry friends to eat from there.Put this into habit and see the difference – no more litter.

Indoor Gardening Tray

This shoe tray mat can be perfect for indoor gardening as it can contain dead leaves, dirt and water from your indoor plants. It's raised rim helps avoid soil and water from spilling on to your floor.

Great for Craft Projects

You can use this multi-purpose mat for your craft projects as well! Keep the glitter, glue and all the craft supply neatly arranged on the tray. The tray will trap the liquid and other messy things so that your craft table remains clean.

5 Cm Lip- No More Surface Spills On Floor

The rubber mat features a 5cm lip which ensures that water or any liquid stays in the tray no matter the circumstance and under any weather condition.
Durable & Natural Rubber Material
This multipurpose black boot tray mat is made of durable, natural and recycled rubber material. It is durable enough to resist most chemical solvents and won't easily chip, crack or break down during harsh weather conditions.
Ideal Size for Organized Shoe

The size of the tray is 40cm x 80cm, makes it ideal to handle a wide array of shoes, boots, slippers, flower pots and umbrella in one tidy, convenient place.

Easy to Clean Shoe Mat

The rubber material of this durable boot tray mat can be easily rinsed clean with plain water and you can use a soft cloth to take care of more stubborn dirt deposits.  You can simply hose off outside to clean it.

Indoor Outdoor Tray Mat

This tray can be used both indoors and outside. You can place it at an entryway or mudroom to catch water from rain and dirt. You also can keep it on your porch or deck to keep dirt and water coming into your home.
Keep your entranceway clean and dirt free.
This 16 x 32-inch rubber mat is ideal for keeping wet, muddy and dirt dripping boots, flower pots and your pet's food bowl.
Can be used to fill disinfectant solution to sanitise shoes before entering the building.
Can easily be cleaned by hosing down with water.
Available in many elegant patterns.
Material: Natural Rubber
Size (L X W): 40cm x 80cm
Special Care Instructions: Simply shake the mat to maintain its best appearance.
Sanitising steps:
Step 1: Fill 500 ml water mixed with 50ml bleaching solution or 50 ml Dettol solution. 
Step 2: Dip shoe sole in solution 
Step 3: Dry shoes on a dry mat.
Special Care Instructions: Simply shake the mat to maintain its best appearance.
Delivery Method & Time: Ground Shipping via DTDC/DHL/Blue Dart, 3-7 business days.